Rara pictures:
Nepal information:
Rara Lake Trek - Western Nepal trekking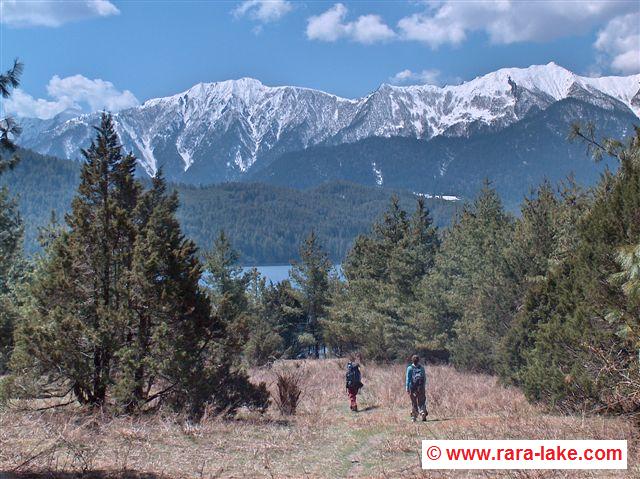 Two trekkers walking down from the hill on the Gam Ghadi side of Rara Lake during their trek in Spring 2007
Example of a trekking Itinerary from Jumla to Rara and back
Day 1- Kathmandu to Nepalgunj: Flight.

Day 2- Nepalgunj to Jumla: Flight.

Day 3 - Trek from Jumla to Danphe Lagna (3130m).

Day 4- Hiking from Danphe Lagna to Chahutha (3183m).

Day 5- Trek from Chahutha to Dhotu (2380m).

Day 06: Trekking Dhotu to Rara Lake (3060m).

Day 7 and day 8- Exploring the surroundings of Rara Lake.

Day 9- Trek from Rara to Gorosingha (3190m).

Day 10- Hiking from Gorosingha to Sinja (2440m).

Day 11- Trekking from Sinja to Jaljala Chaur (3270m).

Day 12 - Jaljala Chaur to Jumla (2370m).

Day 13- Jumla to Nepalgunj and Kathmandu: Two flights.
| | |
| --- | --- |
| | |
| Sunrise at Rara lake - picture taken near Dafi hotel, Rara | Snow-capped mountains reflecting in the surface of the lake |
| | |
| Early morning fog | Nepali house in village between Gam Ghadi and Talcha airport, Mugu district |
Some more photos
First view | Murma Top | Donkeys | Girl in Murma Village | women processing rice harvest | snowy mountains | mirror 1 | Snow-capped mountains & green hills + lake | mirror 2 | more Rara | clouds | East side |
Email me about the Rara Lake Trek
Nepal sites:
Swayambunath (Kathmandu)